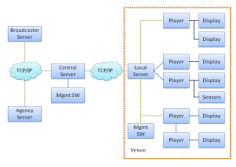 Digital Signage is all around us - at companies we work in, hotels, airports, grocery stores, the mall, gas stations, health clubs, bars, restaurants, schools and more. As with so many other industries that used to rely on paper, the poster and billboards are going digital.
In the process, the nature of signage is changing. Signage is no longer a mere substitute for paper, but a new media all of its own. This new media begs for new technology and services. This industry is still fairly young. It is growing and changing, and this means opportunities for some that wish to enter it.
If you are a company that is thinking of entering this young market, you might want to see what others are doing first. This report gives you an overview of the industry, its structure and an extensive listing of companies that are already trying to carve out their niche.