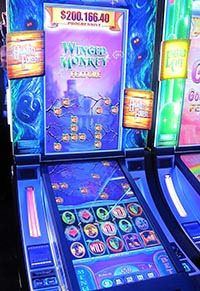 If you are in the consumer electronics industry, you might be surprised by what is happening inside today's modern casino.
There are more than 830,000 slot machines in the U.S. alone. When most people think about slot machine technology, they tend to look at the obviously visible elements, such as the use of a 103" Panasonic plasma display, shown above in IGT's Center Stage platform*.
But, as one Casino executive recently said, "our industry is perhaps six or seven years behind other industries" when it comes to the use of modern computer and digital media technology on the casino floor. That said, the industry is now feverishly trying to catch up and is at the start of a revolution.
When a company looks for new opportunities to enter, they should look for a big industry that is going through big changes. The gaming industry definitely fits this bill in spades, making it suddenly attractive to all kinds of new companies from traditional consumer electronics, to upstarts, to familiar names from Silicon Valley, and to scam artists.
One technology that has been slow in deployment is simple networking. While slot machines and other devices, such as change machines, communicate with a central system, the communications is predominantly based on old fashion serial links. Now the big buzz is "Network-based Gaming", and after years of talk, it is finally starting to appear.
The other big industry buzz is about Internet Gaming. While tangled in laws that prevent it in many countries, it is nonetheless a huge business.
Put Network-based Gaming and Internet Gaming together, and you get the next big buzz - Mobile Gaming.
This report looks inside the gaming industry as it struggles to join the net-generation age from both a technology and target market approach. This report is aimed at the industry outsider that is wondering what is happening in this world of gambling and where emerging opportunities are. But, people inside the gaming industry will appreciate the view this report gives from a consumer electronics perspective.