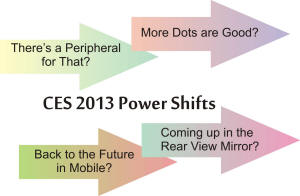 The 2013 Consumer Electronics Show had 3,250 exhibitors showing off 20,000 new products spread over nearly 2 million square feet. No doubt, you've read about many of these new products already, including on our own Photos & Comments pages. But, if you are someone responsible for the future directions of your company, the trick is to spot the strategic power shifts in the markets. These power shifts can hint at new growth opportunities for you company, or indicate threats to your company's existing businesses.
DIGDIA has been attending CES for almost two decades. People that tell you that "there is nothing really new at this year's CES" are not really looking. People that get excited by the latest gadgets aren't looking for the long term implications. In this paper, CES 2013 Power Shifts, we take a look at three areas and think about the longer term implications for people in consumer electronics Marketing and R&D. The three areas we look at are, broadly speaking:
Phone & Tablet - opportunities are opening up for non-established players

TV - ground floor for a next generation technology

Automotive Electronics - industry is embracing it, but some original issues remain
We also touch on one threat to established consumer electronics companies that was quite visible at this year's CES.