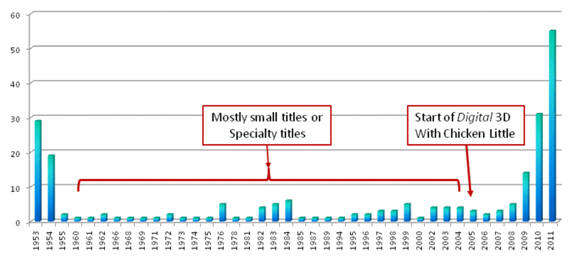 2010 was the big coming out party for 3D. Hot on the heals of Avatar, just about everyone was eager to offer movies, consumer electronics, services and television content in 3D.
Now that 2010 is over, some pundits are now saying that 3D has been a disappointment. 3D movie reviewers find it easy to bad mouth some titles. 3D TV hasn't taken off like some thought it would. Glasses are expensive and cumbersome, and there isn't much 3D programming to watch.
But, none of this is a surprise for many in the industry. 3D was overhyped at the 2010 CES. The inevitable bad movies were converted to 3D. Standards were not all in place. The industry was caught a little by surprise. All of this was to be expected, and many predicted it would happen.
Remember, 3D didn't really start in movies until 2005 and 3D TV didn't start until mid-2010. Look at the chart above - the number of 3D movie titles is still growing at an incredible rate.
In the meantime, efforts to make 3D better and more complete are happening on all fronts, from movies, to equipment and tools, to devices, to content and services. An explosion of 3D in just about every product category imagined was on evidence at CES 2011.
But, opportunities to improve just about every element of the ecosystem still exist, if you know how things work. This is true, even for 3D TVs, which are now on their 3rd generation.
This report covers the complete 3D ecosystem. It talks about the market, the vendors, the technology, the products, the content and the services. Along the way, several areas of opportunity are mentioned or are made obvious.
If you bought a previous edition of our Digital 3D Entertainment report, please send us an inquiry using the link above to see if a discount is available.